ID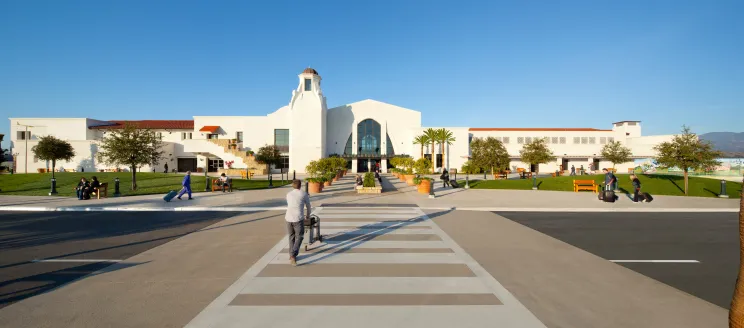 Body
Santa Barbara Airport Announces Direct
Service between Santa Barbara and San Diego Starting June 17
SANTA BARBARA, CA – June 8, 2021 -- Santa Barbara Airport (SBA) is excited to announce that Alaska Airlines will offer direct service to San Diego International Airport (SAN) starting on June 17, 2021. With only a one-hour flight time to and from San Diego, travelers will have the opportunity to bypass the long 4+ hour drive through Los Angeles. This is now the third daily direct destination for Alaska Airlines out of SBA. Advance booking is available now on www.alaskaair.com. An Embraer 175 will serve the route, with a capacity of up to 74 passengers, and 4 classes of seating options.
"We are honored that Alaska Airlines has chosen SBA for this new route to San Diego and we are reassured summertime travel to southern California just got easier with this new direct service says Airport Director, Henry Thompson. "This new flight will offer a quick trip to sunny San Diego for families and those needing to travel for business."
Daily Departures and Arrivals
 
DEPARTURE
ARRIVAL
Daily
San Diego
4:30 PM
Santa Barbara
5:35 PM
Daily
Santa Barbara
6:15 PM
San Diego
7:17 PM
SBA is also celebrating the new services in June every Saturday and Sunday from 11am-1pm with Dave's Dogs on site at the Terminal. All are welcome to join, come out to support a great local business and sit on the observation deck to check out SBA's behind the scenes operations.
SBA has created a "Safe Air Travel Check List" as an easy reminder for travelers, which includes:
Face Coverings
Hand and Surface Sanitizers
Wash Hands Regularly
Keep a Safe 6 ft (2M) Distance from Others
Check with Your Airline for Specific Regulations
Do Not Travel if You Are Feeling Sick
For a copy of the checklist and more information about what to expect when traveling through SBA during the COVID-19 pandemic, please visit www.flysba.com.
Santa Barbara Airport offers the following Direct Flights:
Chicago via American Airlines: Seasonal Service only on Saturdays and Sundays between May 8 - September 5, 2021
Chicago via United Airlines
Dallas via American Airlines
Denver via United Airlines and Southwest Airlines
Las Vegas via Southwest Airlines
Los Angeles via United Airlines
Oakland via Southwest Airlines
Phoenix via American Airlines
Portland via Alaska Airlines
San Diego via Alaska Airlines starting June 17, 2021
San Francisco via United Airlines
Seattle via Alaska Airlines