ID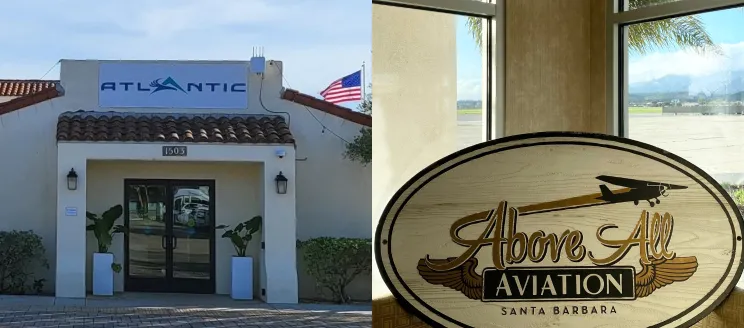 Title
Tenant Spotlight: Above All Aviation & Atlantic Aviation
Authored on
January 20, 2023
Body
Did you know there are more than 150 different tenants that rent and work out of the Santa Barbara Airport? Welcome to SBA's new Tenant Spotlight series, where we highlight some of the diverse people and businesses contributing to Santa Barbara County, the aviation community, and beyond!
Meet two long-time tenants of SBA: Above All Aviation and Atlantic Aviation. These businesses have been partners of SBA for 13 and 15 years respectively, and have both recently relocated their services to new buildings on the property.
Above All Aviation is Santa Barbara's #1 flight school. From private to commercial pilots, Above All offers a variety of certification programs for anyone wanting to take to the sky. In addition to flight lessons, they are the only scenic flight operator in all of Santa Barbara and Santa Maria Counties! Owners Shawn and Joel Sullivan founded Above All Aviation in 2010, and have since been committed to supporting and growing the general aviation community through their work. They can be found at their new home at 404 Moffett Place. To learn more, visit http://www.aboveallsba.com.
Atlantic Aviation is one of SBA's fixed-based operators (FBO) that offers a full suite of aviation services, including fueling and line services, ground transportation, catering, hangar, deicing, and ramp space. As an important provider for the business aviation sector, they serve anyone in need of services for piston, twin, or jet aircrafts here at SBA. Atlantic Aviation was founded in 1927 and now have more than 100 locations across North America! Their new location at SBA is 1503 Cook Place. To learn more, visit https://www.atlanticaviation.com/location/SBA.
SBA is so grateful for these two partners and the important work they provide to the local aviation community!