ID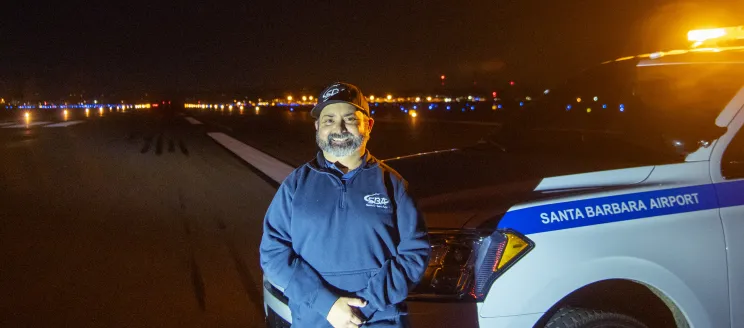 Title
SBA Employee Spotlight: Ryan Cullom
Authored on
November 30, 2021
Body
SBA Employee Spotlight
Ryan Cullom, Senior Airport Operations Specialist
Ryan Cullom has worked at SBA for more than eight years, starting with the first TSA Team in 2002, where he served for four years. Ryan then transitioned to the Operations Team in an official capacity with City of Santa Barbara, Airport Department. He had a two-year sabbatical from SBA, but returned to the team in August of 2019, and now serves as one of six Senior Airport Operations Specialists. Ryan grew up in Goleta, admiring the planes that flew overhead, and now truly appreciates the aircrafts and all that goes into safe and successful flights in and out of SBA from a whole new vantage point!
Ryan's background in large scale communications in public safety technology makes him a uniquely qualified and valuable member of our Operations Team. His abilities to work across teams from Law Enforcement, to our FAA control tower, SBA Maintenance, and others within Operations forms a vital bridge in SBA's radio communications, safety and efficiency.
Ryan truly enjoys the dynamic environment of his work at SBA. Working at an airport in Operations brings new situations and challenges daily, but Ryan's knowledge and skill set allow him to thrive in this ever-changing environment. SBA sincerely thanks Ryan for his service, we could not be successful without dedicated members of our team like Ryan!
If you'd like to come work for SBA please visit The City of Santa Barbara Jobs page.